WE SELL OVER 2100 MARVEL/DC PRODUCTS, T-SHIRTS, STATUES/BUSTS, INFINITY GAUNTLET COLLECTION SERIES, DVD'S, SWORDS, POSTERS, STAR TREK COLLECTIBLES, MURALS, BOARD GAMES, GHOST HUNTING PRODUCTS, PERSONAL/HOME SECURITY PRODUCTS, FREE HOME BUSINESS STARTER KIT WITH A HOST OF OTHER EXCITING NEW PRODUCTS. INTERNATIONAL RATES WILL APPLY!!!! SHOP NOW. FREE SHIPPING WITH ORDERS OVER $100.
New Website Lets You....
"MAKE $97/DAY BURNING CD'S FROM HOME FLYER"
(Sell The Hottest Mail Order Books, Booklets, Reports & Manuals)
(With Full Reprint Rights From Your Own Ready-Made Online Sales Letter Page)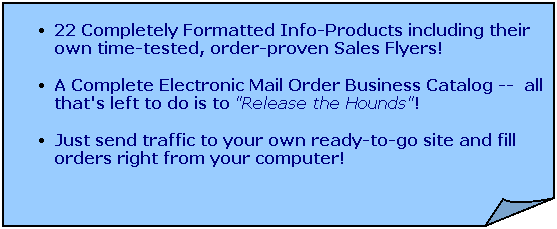 Get $97 Orders for the whole Product Line and Opportunity!

Order NOW and Start Making MORE Money This Week!!!!
FREE Reprint Rights!
Why You Will Make Money

There are tons of new opportunity seekers out there that can't type, spell or write worth a lick let alone use a computer. But they want to make money! These are real eager customers who have money to spend and they want and need products to sell.

You will have products that will give them what they need on paper or on CD-ROM.

Rake in their cash orders for $10... $20... $30... $50... and even $97!!!!

START MY $1 TRIAL NOW. FREE LIFETIME MARVEL/DC MEMBERSHIP!!!!

OFFER EXPIRES IN 2 DAYS DISCOUNT ONLY AVAILABLE UNTIL FRIDAY.

TO GET STARTED PUT IN (MEMBER) AT THE SEARCH BUTTON ABOVE.

CLICK ADD TO CART/CLICK DISPLAY SHOPPING CART/CLICK CHECKOUT.

SELECT ORDER AND REGISTER AS CUSTOMER FILL OUT INFORMATION.

****INSTANT DOWNLOAD TO YOUR EMAIL BOX/NO DELAY****

****DISCOVER OVER 2100 UNIQUE SUPERHERO ITEMS****

****1 TIME CHARGE ONLY FOR MEMBERSHIP/FLYER****